We had a crazy morning! My ultrasound was at 8am up in Mililani, so we woke up at the crack of dawn to get everyone ready. We left the house just after 7 and stopped to treat the girls to donuts at Foodland. We arrived in Mililani at about 10 to 8, but could not find the office. The lady at my regular office in Kapolei had given me rough directions, but obviously not enough, because we couldn't find it. I called every couple of minutes until 8 to try and get through, but no answer. Finally at 8:07 they answered and were like you're in the wrong place, but only a few blocks away. She said it was right next to the 24 Hour Fitness on Kamehameha Hwy. So we headed that way. Then my phone rang a few seconds later and the girl was like "You are going to have to reschedule your appt because the tech has another patient in 15 minutes". I said, "Oh, ooook... Well, I still have to see the dr so I will come anyway." So we get to the 24 hour fitness complex and it wasn't there, so I called again. She said "Oh, well you need to go back towards Kam. Hwy and cross it from 24 Hour Fitness and we're in there!! GRR (someone needs to get their directions straight). By the time we got there it was 20 after. I went to go in and the door was locked. UGH! I had to knock on the door and they had to let me in. I checked in and she said "You will have to reschedule your ultrasound". I said, "Well, you know we were here 10 minutes before our appointment and no one would answer the phone to give us directions." She said "We don't answer our phone until 8." I said, "You didn't answer your phone at 8, in fact you didn't answer until 8:07, according to my cell phone call log. If you had answered your phone at 8, we could have gotten here in time." She rolls her eyes and says "Well, I was answering other calls." OOOOO I could have slapped her!!
We were the only ones in waiting room and I saw her grab my file and walk over to the ultrasound gal. I could only hear them and the tech was saying something about how she can't take us because it will put her whole morning behind. (Which I understand...I hate waiting too). Then the tech came out and said that she can give us a couple of pictures of the baby, but cannot do the entire scan because of time. So she took us all back and took a quick peek. She said that it's not "definitive", but she is 90% sure it's a girl. Pretty much for lack of not seeing "anything" there, it
looks like a girl
. Usually with the girls there are the 3 lines indicating "girl", but we couldn't get a clear shot. Baby was rolling around doing flips in there. She also made glances at the brain, heart and internal organs and said she doesn't see anything right away that looks out of the ordinary, but she'll be more thorough at my next appt. She gave us 7 pictures, which was really nice of her. I thanked her several times! Then I apologized to the receptionist for getting short with her and thanked her for asking the tech to let us take a peek. She kind of blew me off (BRAT!), but I feel better for having apologized anyway.
Here are a couple shots: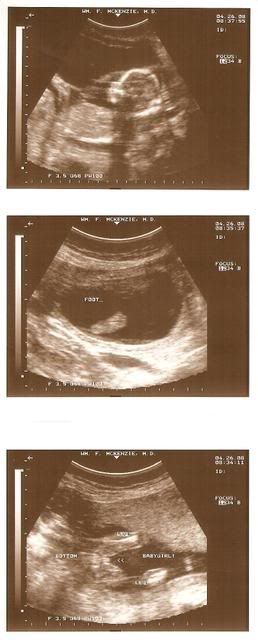 Profile, then foot, then mid-section