I have a best friend from each place we've lived (sometimes 2 from each).
Tracie Strand
is the first and longest friend I've ever had. We met at age 3-ish when our older sisters, Cheryl and Jackie, were friends and in the same grade at school and same gymnastics class in town. Then we ended up having the same 1st grade teacher and she introduced me to her friend, Jamie Imig, who was also in our 1st grade class. Tracie is the one that I got my tongue piercing with. The very last time I saw her in person was on my wedding day in June '98. We lost touch for a long time after that, but are now back in touch for about 2 years now!

At my 7th birthday party. I'm in pink in the middle, Tracie is on the left in stripes.
(That's Allison Pepper on the right)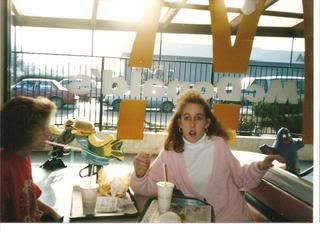 Jamie came in to town for a visit at Christmas time and we all went
shopping at Lancaster Mall and ate at the McDonald's across the street.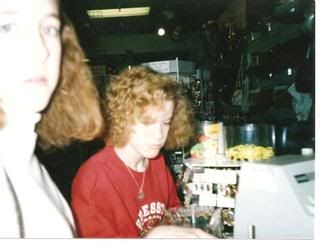 Tracie and Jamie shopping

Tracie and Sean Kennedy (my senior prom date that ditched me)

Isn't she beautiful?!
Jamie Imig (now Jayme Horton) is the first person I remember calling my 'best friend'. She and I were inseparable from 1st to 5th grade. She moved the summer after our 6th grade year to Utah and then shortly after that to Arizona. She is still there and married with 3 kids.

This is 1st grade and 5th grade

Halloween 1988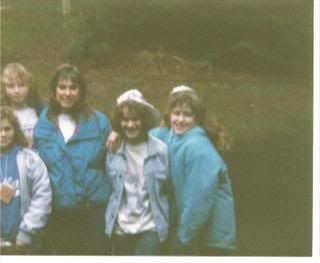 6th grade outdoor school with our counselor "Peanut". 1989

Summer 1990. Jamie came back to visit and I got to
go camping with them at Detroit Lake.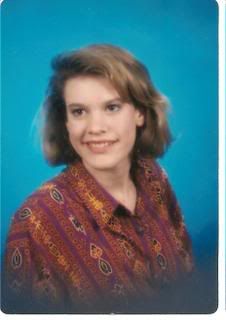 Senior Picture (from AZ)
Jolene GrosJacques (now Ferschweiler) has been my best friend for the longest period of time. We met in 5th grade when the 2 elementary schools in town converged to the one middle school. It wasn't until our Sophomore year while cheerleading together that we started to become close. After graduation, and after I had dropped out of beauty school was when we became closest. We were inseparable and even worked together for a while at Boston's Pub and Grill as waitresses. Now she and her husband (and 3 kids) live just a few blocks away from where we are staying at my parents. It's been so good to see her again!!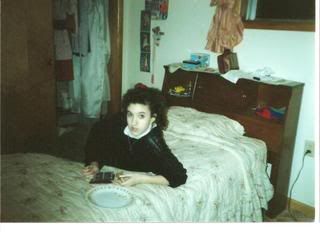 Sleepover at my house. March 1990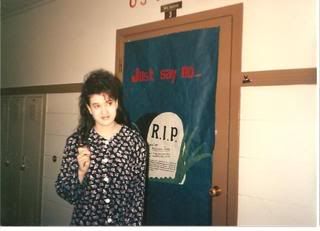 Last day of school in 7th grade. June 1991.


Jolene with her now husband, Dusty. Summer 1997 (I think).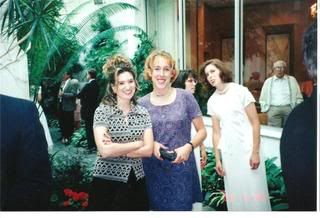 Jolene and Tracie at the Portland OR Temple on my wedding day.
June 26, 1998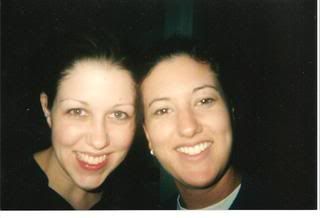 Girls only sleepover at Jolene's during a trip home in May 1999.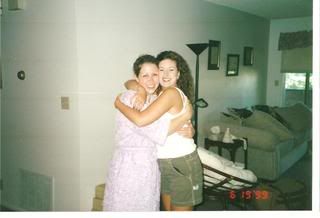 Jolene on a girls only road trip through UT. 1999
Amy Mayall (now Young) is my "European" best friend. LOL! She and I met when my parents took me there in the summer between 10th and 11th grade. My dad baptized her mom while he was serving a full time mission there when he was just 19. Her mom was 17 at the time. She converted and married her husband and they have 10 children. Amy is just a year and a half younger than me and we hit it off immediately. We've kept in touch through the years and I've been to visit her twice since that time. Once for a month over Christmas and New Years '96/'97 and then Will and I (with 4 month old Mariah) and a bunch of my family went there when she was married in June of 1999. I don't think I can remember all of the times she has come here to visit. It's been a lot!! Now that she has 4 kids, though, she hasn't been over in a while.

My 2nd time there. I flew by myself and stayed for a month!
Dec. 1996

Trying on fur coats and hats on "the mile" in Chicago
Aug. 1997



With my favorite cousin Mac in Indiana for his mission farewell.
Aug. 1997

When she visited us in UT, I cut and colored her hair.
Feb. 1999

Her wedding in England. June 2000.
Jennifer Timothy (now Rouska) is my soul sister! We met during my first stint at Bon Losee Academy and didn't really care that much for each other at all. It wasn't until halfway through that we started to talk and hang out. After I left, we kept in touch and after Will and I were married and I moved to UT, we realized that we couldn't live without each other. We even ended up pregnant (with Madison and Mariah) and due on the exact same day!
Jen is more than a friend to me, she is as close as a sister can get. We've been through so much together and our lives have been so parallel. I'd marry her if I were a guy!!! LOL (You know I love yer guts, Jenny Penny!) We always say that when we're old maids, we'll live next to each other and make each other laugh until we die.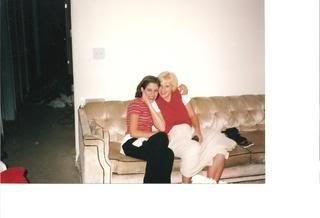 On a road trip with Amy Mayall through UT.

Family fun day at Lagoon. (her son Kade) June 1999
My graduation from Bon Losee. We are only 2 months from delivering
at this point!! Dec. 1999 (I have some better pics of us pregnant together,
but they are packed somewhere in the mess of our stuff right now.)

Picnicing up Provo Canyon. May 2000

At the Vernal Temple for their sealing. Jan. 18, 2001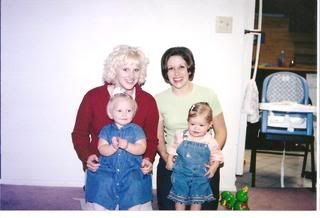 Jen and Madi. KJ and Mariah. Just chillin'. Spring-ish 2001
Visit to good ol' Vernal, UT. I was pregnant with Brinlee. Mar. 2002.

The Rouska's got lei'd in Hawaii! Mar. 2007

Pali Lookout. O'ahu, Hawai'i. Mar. 2007

Erin Carnell
(now Heninger) and I met while I was at Bon Losee. She is cousins with Jamie Jensen, whom I was roommates with at Raintree and partners at Bon Losee. When fall came, Erin moved down from Canada to start school. Jamie moved into a different apartment with her, which happened to be right below mine. We three were always in trouble about something. Jamie's parents thought that we were causing too much trouble for Jamie (it was actually the other way around, but....), so they made her drop out and move back home to Idaho. Erin and I became inseparable after that. There wasn't a night club or party left unturned until after we'd been there! ha ha ha! She and I stayed in touch, even after she went back to Canada. And even despite the fact that her parents thought I was a bad influence. LOL!!
I actually convinced her to wear a dress!! It's my
dress, but still. I'm sure we were going dancing or
something..not sure. Feb. 1996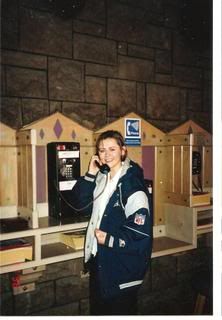 At one of the hotels in Vegas. She's probably
calling her sister, Kristen, who lives there to come
and pick us up. Jan. 1996.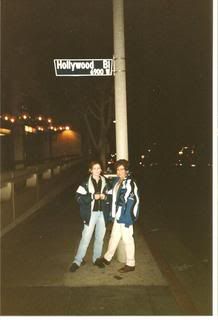 Somewhere in CA, after the Dallas Cowboys won the
Super Bowl. We had attended a Super Bowl party with
my friend, Sergio Salzano. Jan. 1996.
Crystal Sautter and I became friends under the oddest circumstances. While I was pregnant with Mariah and finishing at Bon Losee in '99. Crystal was assigned to me for her hair color appointment. She was also pregnant, but due much sooner than me (in Sept/Oct). She returned to me once or twice more before I graduated and I had given her my home number in Orem so she could call if she wanted her hair done. Well, she never called and I didn't really give it much thought. But then one Sunday (around Summer 2000) this new couple showed up in our ward and the wife looked so familiar. I asked her after sacrament meeting why she looked familiar and she didn't know, but I looked familiar to her, too. We finally realized where from and became fast friends after that. Elle and Mariah are a little more than 4 months apart in age. We had so many people ask us if they were sisters or twins because they resembled each other so much. I wish we lived closer together so that the kids could play. She also has 4 children, and all of them are GORGEOUS!! I have tons of pictures of us and the girls playing together when they were little, but I can't find a single one. This is the only recent picture I have.....their Christmas card photo. It's darling, though, huh?!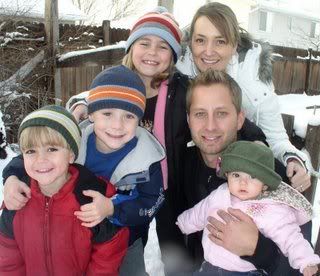 Christmas 2007
Taryn Harmon and I met at our ward in Vancouver in 2003. We had both been searching for a close (in person) friendship for a while. It was like our spirits knew each other instantly. We became fast friends (as did our husbands) and we were pregnant together with Eden and Asia in 2004. She was due only a couple of weeks before me. Tige and Taryn were the first of our friends to come and visit us in Hawai'i and we had a BLAST!! I am so glad that we will have the opportunity now to let our friendship continue to grow.

Kristy and Asia. Eden and Taryn. Apr. 2005

Taryn, Eden (sleeping Asia), and Tige at Ko'Olina, O'ahu, HI. Oct. 2005
Dotty Walsh and I also met at our ward in Vancouver. We were partnered as visiting teaching companions a few months after we'd moved there and I was also called to serve in the Young Womens program where she was also serving. Dotty is someone that I really admire. Her spirit shines through so strongly and she makes me want to be a better person. She and Monte didn't have any kids at the time, though they'd only been married just 6 months less than us, but we found that we had TONS in common! It wasn't long before we had a semi large group of friends that we would often hang out with together including the Harmons, Dan and Patty Nordstrom, and Mark and Erin Prusse. As more young couples moved in, our group grew larger. We were so sad to move away from all our great friends.
(Dot, I hope you don't mind that I lifted these pics from your myspace?? I have so many pictures of all my friends, but they are buried in some unknown black hole for now)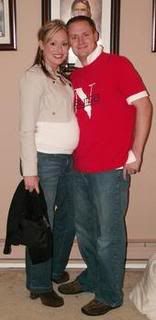 Dotty and Monte Walsh
Kapua Kai is my best Hawaiian friend! =D We met just a few weeks after we'd moved into the ward and she had just given birth to her 4th girl. Our girls are all similar ages, so it was natural for us to become friends. We also have very similar taste and habits. As we became closer friends, it was eerie how parallel our lives really are. Our families became known as the Hapa/Hauoli twins (brown/white). We miss them so much right now. We hope they make good on their promise to visit next year. Kapua gave birth to their 5th girl this past January and so, naturally, we had to follow suit and spit out another girl, too. UGH! (LOL j/k...seriously).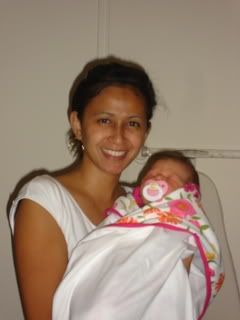 Kapua with 1 day old Tatum. Aug. 2006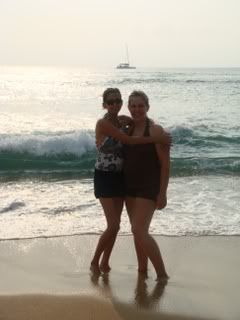 our trip to Maui. May 2008

I feel so blessed to have such beautiful friends (inside and out). They have all touched my life in such different ways. I would NOT be the person I am today without the influence of each and every one of them. Not too many days go by that each of them aren't in my thoughts.
Thanks for the memories ladies!