I don't know why I didn't take any pictures of the girls tonight?! I did get a picture of my mom and I. Yes, that's my mom as Fred again. Will got called in this morning by AAA staffing and so he took it. I was a little disappointed, but the extra cash is always nice, too. So my mom and dad agreed to come up at the last minute to help me with all the kids since I don't really know anyone and they would have been so disappointed if they couldn't go.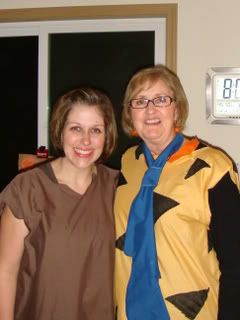 me and my mom as Fred Flintstone and Barney Rubble
The Fall Harvest Festival for our ward was so fun! They served pumpkin stew. I know it sounds weird, but it was actually very savory. It was a beef stew with chunks of fresh pumpkin in it. I am going to look the recipe up online. It was so good! The gal that was in charge got up to announce the awards for best costumes and she said that she didn't know the real name, but the best family costume award goes to the "Flintstone" family!! They gave us this cute award and $25 gift certificate to Papa Murphy's Pizza!

On our way to the church beforehand, I let the girls trick-or-treat at a few houses on our street. I took some video from the car. Notice what happens at the 3rd house. I crack up every single time I watch it!!! LOL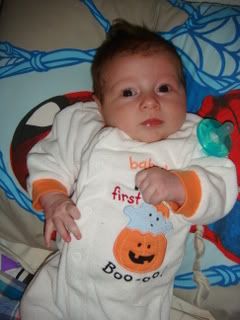 BABY'S 1st BOO-OO!!