The "Mormon" Pioneers entered the Salt Lake Valley on July 24, 1847. Subsequently, it has been a day that we have celebrated every year since. This year, our ward decided to celebrate the "Pioneers in the Pacific".
Tricia Christiansen, who has also lived in Hawai'i for several years, was in charge of the activity. I could tell that a lot of work was put in to make it a success. We all grew up in the Woodburn Ward together with the Ing family, who is originally from O'ahu. Keola Ing now lives with his wife and kids in the Woodburn 1st Ward, which we are currently attending. He was able to help out a lot with the traditional aspect of the activity.
On Friday night, Keola and several people prepared a pig to be cooked in the Imu pit that had been dug earlier in the week. After the pig was in and cooking, Tricia had prepared a program with several speakers to talk about the first LDS missionaries that were sent to the islands in the 1850's.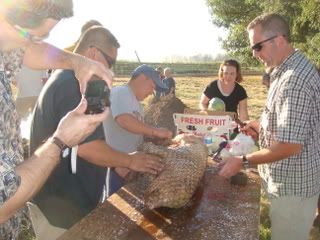 Keola (in the black shirt and sunglasses) and the gang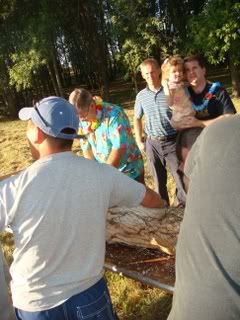 Grandpa Jones in the Hawaiian print shirt, Asia and Will

Imu Pit

Keola throwing wet burlap cloth on the pit

Brinlee and Tatum waiting for the program to start.
On Saturday, we started at noon with lunch. The Kalua Pork was absolutely amazing! There was lots of local kine food to eat and it made me miss the islands that much more. Tricia had asked me to help at the Poi ball making station. We helped the primary kids make little poi balls and then Mariah and Brinlee demonstrated how to use them. It was a lot of work, but the kids had so much fun!

The girls were also asked to do the entertainment. They danced the few hula numbers they had learned in their 7 months of hula lessons. Asia started running a fever on Friday night and didn't feel well enough to perform. Brinlee was supposed to go first with Tahitian and then change into her pa'u for the final number, but she was so nervous that Mariah did her Maori number with the poi balls first. Then Brinlee was supposed to do their Tahitian number, but she got up there and cried and wouldn't do it. So we decided to just go ahead with Ua Mau (I know it's a Christmas song, but that's all they know! LOL!) to see if that would help her warm up. That is why they didn't change into their "Hawaiian" costumes, there was no time! Then Brinlee did her Tahitian number and did a really nice job. I was really proud of them for getting through their nerves. It wasn't a perfect performance, but I was happy that they were able to use their hula costumes again!