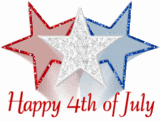 We had a busy week with the holiday and 2 birthdays, plus Adam and Megan in town. On the 2nd was Bradens 2nd birthday and on the 3rd was Ellie's 1st birthday. They tried to celebrate together, but Ellie was not a happy camper. It turned out ok though. She doesn't really know the diff anyway.

The night of the 3rd we all went to the St. Paul Rodeo and watched a HUGE fireworks show after. The rodeo was AWESOME! The thing that was not so fun was the stadium benches on my fat prego tushy...GRR! Mariah and Brinlee were totally into watching the Rodeo Queen and her court. Awwww....after my own heart =D!

On the 4th we were all tired from getting home at 11:30 after the rodeo, but some got up to be at the church morning run at 7 am. Then there was the flag raising at 8 at the church and then breakfast in the city park with parks and rec at 8:30. We left straight from the breakfast to go back to St. Paul for the parade. The kids were so excited! After the parade we were planning to let them ride a few rides each until we realized they were having a special of 1 ticket rides (as opposed to 4 tickets per ride). They ended up getting to ride 7 or 8 rides each. I even snuck on to the ferris wheel by holding Tatum and my purse in front of my belly. The guy wasn't really paying attention anyway. That evening we went out to some old family friends', the Nelson's, for a huge picnic BBQ. They accuired a license this year to legally let off the really big fireworks. Our kids were being so cranky and ornery that we took them home at 8:30 and put them to bed. They got to see a really big show the night before, after the rodeo anyway.