Mariah and Brinlee have been waiting 3 years to go to the fair! Everytime we would see a carnival in HI, they would beg us to go, but it just wasn't in the budget, so we promised them that as soon as we moved back that we would take them to the State Fair in OR. They had a BLAST!! We left Tatum home with Grandma Jones and took the older 3. The weather was perfect. It was partially cloudy, no rain and not too hot! Seeing that I am fairly huge now, I would have been miserable in some kind of blistering heat.
It was "bracelet" day, which means that you pay one price for a wristband and they can ride as many rides as they want between 11am and 4pm. They couldn't believe that they didn't need tickets! They rode a ton of rides (WELL worth the money for the bracelet), ate corn dogs, cotton candy and curly fries. As part of the bracelet "package" each girl got 10 game tickets, as well. They each took a turn playing the softball bucket toss. Brinlee went first and won a little stuffed monkey, then Mariah did the same. When it was Asia's turn, I tried to help her, but it just didn't go in her favor. She was a little sad that she didn't get a monkey, so Brinlee (sweet Brinlee, I am tearing up thinking about it) said "Here Asia, you can have my monkey". I totally melted! Brinlee got super extra bonus points for that one. She is such a great sharer, but that was the ultimate! We finished the afternoon by walking through the Jackman Long Building, where they have booths (including my dad's veterinary assoc. booth) and where they display all the vegetables that were entered for contests and by looking at all the animals in the barns.
I couldn't leave without getting an ice cream cone from the Oregon Dairy Womens booth. It is still, BY FAR, the best ice cream at the fair. One thing that I forgot to do was get an elephant ear. I always get one, but this year, I forgot. We did squeeze ourselves (except Will) into a little photo booth to get the traditional booth pics. It was fun!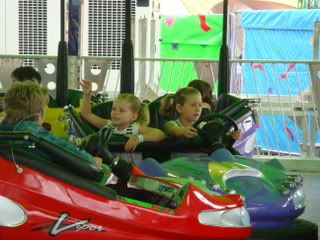 Asia was too short for this one =(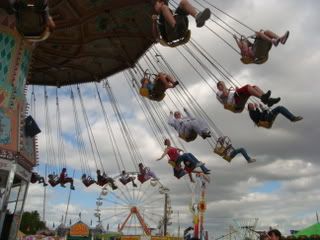 Too short again for Asia and Mariah was too scared.
Someone had handed Will their leftover tickets and so he rode with just Brinlee.
She absolutely loved it! (It's my favorite, too)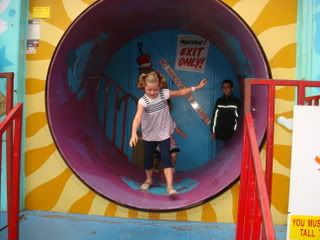 The end of the funhouse

The Merry-Go-Round (Mariah in back)

Canoe Ride

The "Li'l Coaster". Mariah and Asia in the 2nd car in pic,
Brin's face is hidden in the next car back.