This is Brinlee's spring picture from school. Mariah had hers taken too, but when she brought them home her eyes were almost all the way closed and they don't offer retakes on the spring pics so I decided not to buy them.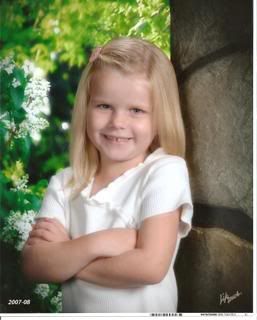 Keone'ula Elementary School
Earlier today when I put Tatum down for her nap, Asia wanted to go on the computer. So I set up everythinggirl.com for her and decided to take the few moments of quiet to get in a little nap on the couch, between switching the laundry. I must have fallen into an immediate deep sleep because next thing I know, Asia is tapping me on the shoulder and whispering "Mommy, MOMmy". I kind of woke with a start and asked "What's the matter?" She pointed to my chin and whispered "Mommy, you dwooling." She was right, I was totally drooling all down my arm and onto the leather couch!!! LOL ha ha ha!!

Will and I had a good laugh over that at dinner time.