Today is our 10th anniversary. We pretty much already celebrated it when we took that trip to Maui in May. Most everyone has heard us tell the story about our honeymoon and how we wished we could have taken a more elaborate vacation. We swore that for our 10th anniversary that we would go Hawaii, no matter what we were doing. Well....just 22 days shy of our 10th anniversary, we moved back to the mainland from having lived in Hawaii for 3 years.
When we moved to Hawaii in June 2005, we realized that we would likely be living on the island for our 10th and so we said that we would do an full inter-island cruise to fulfill our honeymoon dream. Back then (when we first moved there), we could have done an all inclusive 7 night cruise to all the islands for a Kama'aina rate of around $390 per person. We had kind of been saving up for the occassion when it would come, but about 6 or 8 months ago when the economy took a sharp down turn, NCL pulled 2 of it's 3 major inter-island cruise ships from Hawaii to somewhere on the mainland east coast and Europe. Leaving only one ship in the islands caused the price to SKY-ROCKET! We couldn't find a rate for less than $900 per person.
We are happy with our trip to Maui and he did surprise me for our 9th anniversary last year and took me to Kaua'i, which was TOTALLY awesome! I have no complaints.

I have the best husband in the world. I don't tell him as often as I think of it in my head how lucky I know I am to have someone that is there for me in every way. There are so many men out there that refuse to be hands on with kids, and would choke at the thought of having to clean a toilet, but not my guy! He dives in head first and not only cleans all our toilets every weekend, but also keeps the dishes done and puts the kids to bed. I love you, Bug! THANK YOU for all you do. It doesn't go unnoticed.

I have no clue where our wedding pictures are buried right now. I did find a couple of pictures of us when we were dating and a wallet size of our engagement pictures and some other random pictures of us from the first year we were married, so I thought I'd put those up.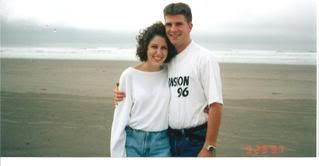 I suppose this could be considered our "first date". It was about 2 weeks
after he'd returned home from his mission and he wanted to go to the beach.
Not without supervision, of course. So he dragged his little brother, Cory, along
with us. I made the first move and held his hand in the car on the way there
and then that night (I was spending the weekend at his family's place), I kissed
him in his mom's kitchen before we said good-night. I think it was also earlier that
evening that his sister, Monica, and I convinced him to let me cut his hair and
give him a new style. He'd had the fluffy middle part since like 4th grade! LOL (9.29.97)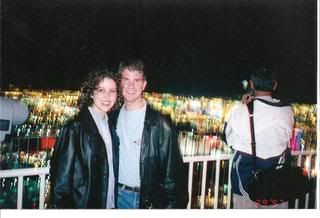 That Thanksgiving, after he'd already moved to UT to go back to BYU,
we met up in Las Vegas because my family had flown there for the
holidays and for my new nephew, Josh's, blessing. We had a lot fun
that weekend. He'd never been to Vegas before that. (11.29.97)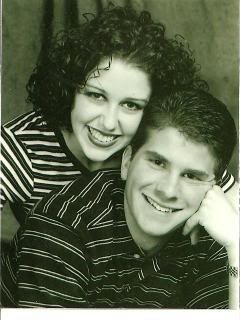 This is one of our engagement pictures. It's not the
one we ended up sending out, though I wanted to, and
have always regretted it since. My mom said it wasn't
a good idea to send out a b&w photo for an engagement.
What does she know?! LOL

Our honeymoon in the mountains. (6.29.98)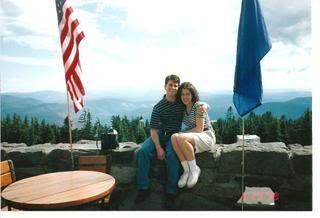 Timberline lodge up at Mt. Hood. (6.29.98)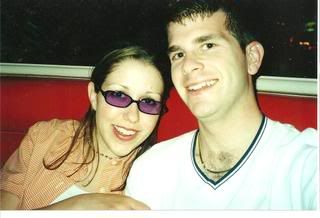 We were visiting my sisters in Vegas (pretty close to our 1st anniv).
We drove down there with our friends, Aaron and Carrie Jeffries.
This picture was taken at the Rio Hotel buffet. I kept feeling so sick off
and on through the whole dinner, but it was a passing nausea. I found
out about a month later that I was pregnant with Mariah! (5.29.99)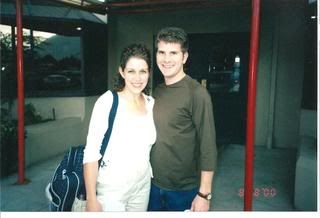 We went out to dinner for his birthday at Skippers, his choice. Mariah
was several months old. (8.8.OO)