Let's just say I AM BEAT!! It's been a crazy few days since all the happenings around here. Yesterday we went to Mary Lou's for Thanksgiving.
Thank
fully, Will didn't have to work! We also learned that he doesn't work on Christmas or New Years Days!!! How that happened?! I have no idea!
So I got up unusually early this year. I am used to going alone now since living on island. I'd have loved to of had someone to go with, but my mom and sisters were in Utah for my Grandma Woolsey's 85th birthday and Dotty, my only really close friend still in Vancouver, was in Seattle. I really wanted some $4 pjs and $8 winter coats at Wal Mart and a few of their other good deals, so I went out at 3 am today instead of my usual 4:30. I wasn't the first one in line either. I was about the 75th person from the door. It was raining and cold, but OH SO EXCITING!!!! I had my little chair and my handy dandy notebook and was ready to go. I got everything I had gone for and A TON more that I didn't plan for. LOL
After Wal Mart, I went to the newly remodeled Toys R Us in Jantzen Beach with the brand new Babies R Us that they just added on and they totally duped me! I got there and they were offering a free crib with the purchase of the combo and armoire set. I just couldn't resist. One of my dreams is coming true! I know it's silly, but I have longed to decorate a nursery since Mariah was born. I have never even owned a crib. I know, right?! 5 kids and no crib!! It was ridiculously expensive, but I got a
free
crib!!! I already have many a vision of what I want to do in her nursery...stay tuned!
Thanksgiving was really fun and super relaxed. We spent the day in Rainier with Will's family. Poor Mariah spent the entire day lying in Grandma's bed watching the new DVD's she just bought them.
Barbie in a Christmas Carol
and
Tinkerbell
. She only ate a few soda crackers and sipped water all day. The food was super YUM and the day went off without a hitch! The only bummer was that Bryan and Ellene weren't there for the dinner, they were with his family and then caught up with us later in the afternoon for pies and such.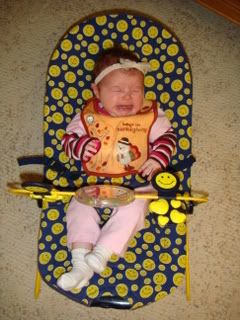 Baby's 1st Thanksgiving.
I don't want to get my picture taken!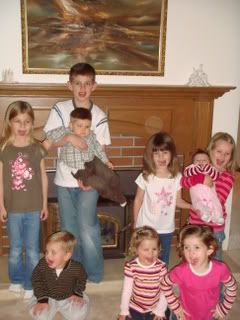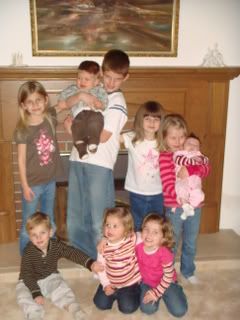 Trying to get a decent photo of the grandkids (minus Mariah)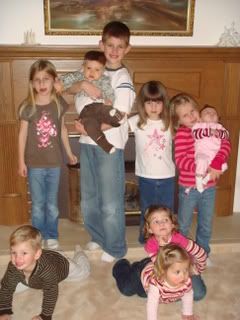 Ha HA HAAAA!!