The guys went spear fishing first thing this morning. They weren't able to catch anything substantial, but had a blast out there anyway. One of Kauwe's cousins had lent them the spears.
We ate lunch at the Hula Grill,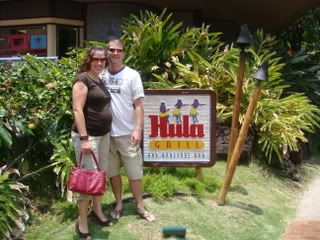 which is owned by the same people as Keoki's where we ate at on Kaua'i. It was pretty good. Our table was out on the lanai with a view of the ocean.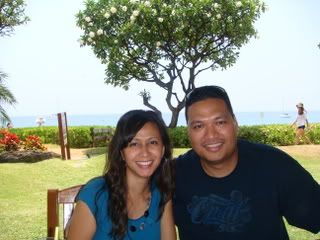 The sandwich I got was just ok (Kauwe got the same), but Kapua's fish and chips were DELISH, and Will's food was super YUM too.
After lunch we stopped at Star Market and picked up food for dinner. We decided to BBQ steak (Kauwe style) since the boys didn't catch any fish.
We spent the afternoon talking and going out on the beach by the condo.
There is a pool just before the beach, as well. While the guys were prepping the grill, Pua and I went swimming in the pool.
Dinner was EXCELLENT! The sunset was gorgeous
and we had a nice relaxing evening.
Kapua fell asleep feeding baby Kezley around 10, so me and the boys stayed up playing cards and talking.