First, can I just say that feet are so nasty to begin with and then my kids think they are Hawaiian and run around without their shoes all day long. So, Tatum's toes are looking much better, but Mariah and Brinlee are now having issues. On Saturday, Mariah was outside playing (without her shoes, HOW MANY TIMES DO I HAVE TO TELL THEM!!) and she says she stubbed her toe on a rock. It sliced into her big toe pretty good and then on Sunday she kept complaining that the skin kept catching on stuff making it bleed again, so Will clipped it off. (YUCK!)
Before the skin got clipped
after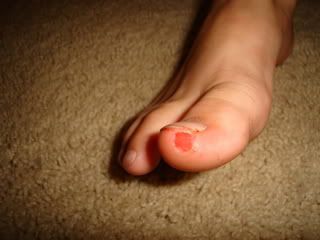 Then, yesterday, Andrea Allen came and took Mariah and Brinlee with her kids to our pool while I finished cleaning and put Tatum down for a nap. She came back about an hour and half later with Brinlee bleeding from the toe. She said that Brinlee scraped it on the rough ground around the pool. It looks like she took a pretty deep chunk, though. Probably because her feet were prune-y and wet and that made the skin really soft. Pretty GROSS! They both wore socks and tennis shoes to school today! HA HA HA!
It looks even more icky in person when you can see how deep it really goes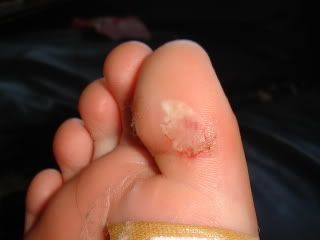 There are still no toenails, but looking SO much better!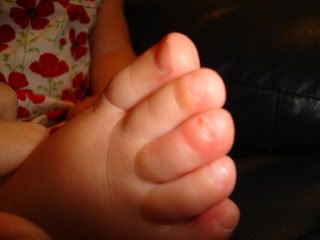 you can kinda see in this picture that she is finally breaking that 4th tooth through on the bottom! She has 4 on top and now 4 on bottom and I just noticed today that she has a molar on each side in the back starting to come through on the bottom gums.