Yesterday was the girls' first day at Lincoln Elementary. I used to go to that school building, but it was the 5th and 6th grade middle school when I went there. It was like a blast from the past. There even 1 or 2 faces that I recognized. SCARY! LOL
Mariah is in 3rd grade and has Ms. Cheever as her teacher. Because the school is so overcrowded, as most schools, her classroom is in one of those trailers that they brought in for more space.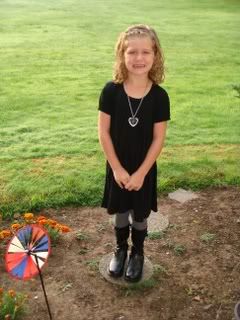 Brinlee is in 1st grade and has Ms. Weigel. She is the only non dual immersion teacher in the 1st grade. Woodburn Schools offer a program that teaches 1/2 the curriculum in English and the other 1/2 in Spanish. I think it's alternating days and subjects. It's called the Dual Immersion Program, but I opted my kids out since they won't be in this school very long. Her friend Anna Cook from the Ward is in her class, too.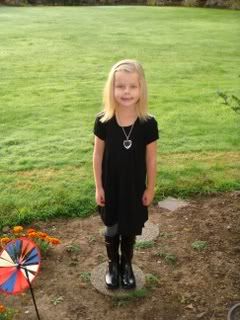 They got to go and do some of their own school clothes shopping this year. It was really hard for me to really let them choose what they wanted, but I felt it is important for them to choose their own style. I "guided" them, of course. =p This dress was one they both chose at the same time in the store and immediately both said they wanted to wear it the first day. They just liked that it came as a complete outfit with the leggings and necklace included. After I got them ready, I thought they were slightly reminiscent of the Adamms Family, but they chose it, so everyone was happy! LOL