We spent the night in our new digs for the first time last night, even though we closed on Friday, the 17th. Will had to work Fri, Sat and Sun and I didn't really want to go to our new ward by myself on the first Sunday, so we stayed at Grandma's for the weekend. After Sunday dinner, Chelsea drove mom's van with the last of our stuff and followed us up here.
Watching a video
Roxelle slept all night for the first time last night!!! I fed her at 10 and put her down and she slept clear through until 7 am!!! She loves her new house. (Probably because we left the heat on and she finally got a warm night sleep for once in her little life ~ Grandma's house is always FREEZING!! Sorry, Mom and Dad, but it's true! LOL).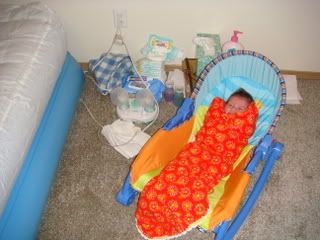 Roxelle in her make-shift bed
This morning the girls got ready for their 2nd 1st day of school. They were excited and nervous. Brinlee kept chattering on about how funny it would be if her new 1st grade class had a substitute teacher and the substitute turned out to be Ms. Weigel (her Lincoln Elementary teacher). She really misses her already! I dropped them off and got a picture of each of them with their new teachers, both of whom seemed really nice.
It's interesting how this morning when I dropped them off, I got all misty-eyed on the way home and this isn't even their "real" first day. I was thinking about how this is the school they will remember and this is the school where each of them will go. I've never had such a feeling of "permanence" before. It feels really good.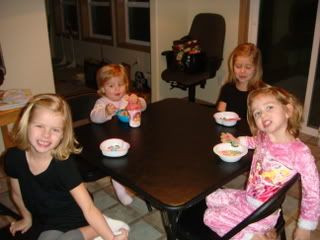 Everyone eating breakfast
Mariah with Ms. Choate ~ and~ Brinlee with Mrs. Little