Tatum chewing gum and tidbits of cousin Hannah
Tatum, as most kids, has an obsession with gum. For months now, I have found her in the corner with the gum from my purse and anywhere from 4 to 8 gum wrappers surrounding her. She has eaten so much of it, I'm surprised she's not poo-ing Maui Melon Mint scent!! (sorry, I know...TMI) LOL!

She ended up chewing this same piece for almost 2 hours. When she was done with it, Will told her to put it in the rubbish and so she did! Such a funny girl.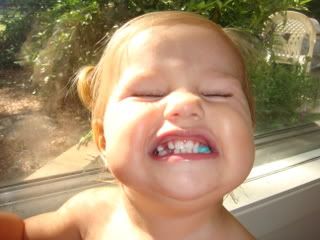 "Hey Tatum, show me your gum!"