I don't think she quite gets that we are here for good. She has had a blast playing with her 2 little cousins Braden and Hannah. We call Tatum and Braden "The Bobbsey Twins" because they are so close in age and really do look a lot alike. Braden turns 2 on July 2 and Tatum will be 2 on August 24. (Hannah made 1 in March).
She has been doing some pretty silly things since we've been here. It's been a challenge to keep everyone from feeding her things with milk. One of the favorite treats here at Grandma's house is spray whip cream on graham crackers. It's so sad to watch her poor face looking at all the other kids eating theirs with thick fluffy white stuff on top of theirs and hers is just plain jane. So I went to the store and got her some dairy free white frosting and she was in HOG HEAVEN!!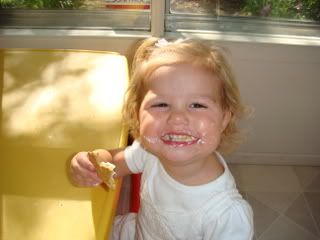 Earlier today, we had put her down for her nap and about 20 or 30 minutes later we peeked in on her and she was wide awake thumbing through Mariah's High School Musical chapter book.