Technically he's not the "man" of the house we are currently in, but figuratively speaking...you get the drift.
Will is a great dad! He loves our girls unconditionally. I could never imagine myself with anyone else. He does so much for us. I know that he does a lot more than the average dad and husband and I don't express my appreciation for him as much as I should. I love you, Will! Happy Father's Day!
In primary today, each of the kids was given a pair of socks to color on for dad for Father's Day. I thought that was a very clever idea and double-y awesome since he needed new socks! He received one pair each from Mariah, Brinlee and Asia.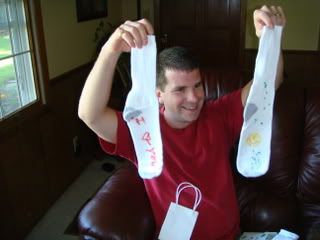 My dad...the actual "man" of the house we are in....is the greatest! I didn't appreciate him growing up the way I do now. I see how much his presence had an influence on me no matter how much I resisted. I only hope that I can be half the parent that he is. Thanks for all you do dad!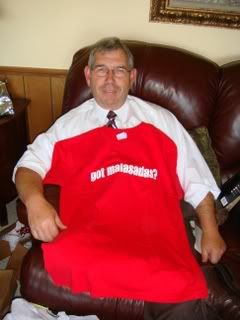 He loved to go to Leonard Jr.'s in Waikele to get malasadas every time they visited. We thought this was a very fitting souvenier for him. On the back, it say's "Leonard's, of course"