(originally posted): Wednesday, September 26, 2007
Hula
Current mood: hopeful
Category: Life
*I'll start with a side note: Last night after I posted my last blog, I was playing with Tatum and noticed she cut a new tooth sometime yesterday! Poor thing has been so fussy since last Sat. I took she and Brinlee to Dr. Torres on Mon and they both have a double ear infection. So the "One Tooth Wonder" is no more! She has the one on the top right and now one on the bottom left! (She still looks pretty silly! LOL)
Mariah and Brinlee started taking Hula lessons in Aug. at Kulani Dance Studio with Sue Eldridge from the Ewa Beach 1st Ward.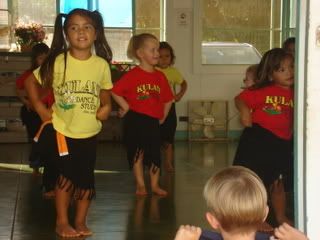 They have been loving every minute and got Asia begging to "go hula" too. So 3 weeks ago tomorrow I talked to Sue and she said that Asia could join the 3-5 year class with Brinlee, even though she won't be 3 until Oct. At Asia's first class, she was ELATED . I didn't think for one minute that she would stay in the 45 minute class and pay attention. But, all in all she did pretty well. She was so excited she could hardly sit still and get the moves right, but HEY, it was her first time!

Last week, she was a little bit restless, but still did alright, but I talked to Sue and she said that Asia is doing OK, but that maybe in the next few weeks the excitement will wear off and she won't want to participate anymore, so she said maybe next year would be better . Sadly, we won't be around here next year and so I was really hoping they could all get the experience for this one last year.

In the car on the way home last week, I told Asia that she would not be going to Hula anymore and she started panicking and I told her that she couldn't go because she wasn't listening very well to Aunty Sue. She was begging, "No Mommy, I pwomise, I do it...I WILL DO IT, puh-lease MOMMY!"

So I decided to let her try it one more week. They didn't charge me for this month anyway, so I figure, I might as well see if she'll really do it.